Shopping Cart
Your Cart is Empty
There was an error with PayPal
Click here to try again
Thank you for your business!
You should be receiving an order confirmation from Paypal shortly.
Exit Shopping Cart
Pitt County Family Development Corporation. Inc.
Pitt County Family Development
| | |
| --- | --- |
| Posted on August 8, 2020 at 6:26 PM | |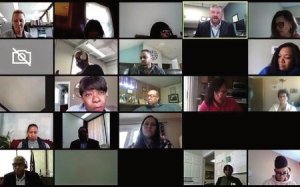 Etiquette: Zoom meetings
As we turn to video conferencing more, there are some ground rules and etiquette we should adhere to. 
Proper dress!
Dress for the job you have, not the job you want.  Do not wear your pajamas.
When you are participating on a Zoom platform, put on professional-looking attire.
Stage your video area.
Keep in mind that people do not just see you, they are also seeing whatever the camera is pointed at behind you. Maybe arrange it so that your camera is not facing towards a pile of unfolded laundry?
Lighting is important.
Video quality is dramatically improved with more lighting. And don't you want everyone to see your beautiful face, now that you have gone to all the trouble to put on actual clothes and stuff? An extra nearby lamp is usually helpful. Just make sure the light is in front of you, not behind you - being backlit makes you harder to see.
Look into the camera.
If you are presenting or speaking to a group, looking into the camera will give the appearance of eye contact with whoever you are talking to. It is also definitely better than being forced to stare at your own face and realizing how badly you need a haircut.
Use the video option when possible.
It lets people see you and confirm you are being fully involved in the Zoom. This is particularly important if you are the one hosting the meeting or a speaker.
Stay on mute if you are not talking.
Background noise can be really distracting. If you are not sharing anything at the moment, go ahead and hit mute until you do. That way, no one will have to hear barking dogs, screaming children or conversation from other family members.
Do not eat during the meeting.
It can be a little gross to watch other people eat sometimes. Or listen to them chewing, for that matter.
Do not do other private things while at a meeting.
Speaking of gross: have you heard any horror stories about people being caught picking their nose or using the bathroom while on a video conference, thinking they were muted or had their video off?
Stay focused.
Keep unnecessary conversations to a minimum. It can get extremely hard to be productive when several people are all talking at once, and even more so when overlapping audio and shuffling video screens are involved.
The host should be the last one to leave.
If the host closes the meeting, then obviously, the meeting ends. To make sure no one gets cut off or loses a last-minute point, it is a good idea to stick around until everyone else closes out of the meeting.  Adapted from Sean Adams April, 2020.
Categories: Employment
/