Shopping Cart
Your Cart is Empty
There was an error with PayPal
Click here to try again
Thank you for your business!
You should be receiving an order confirmation from Paypal shortly.
Exit Shopping Cart
Pitt County Family Development Corporation. Inc.

It's All About Attitude!   Let us work on our ABC's
Attitude and Behavior Challenge us to be our best self.
Merriam Webster defines attitude, behavior and challenge in the following way:
Attitude is a settled way of thinking or feeling about someone or something, typically one that is reflected in a person's behavior.
Behavior is the way in which one acts or conducts oneself, especially toward others.
A Challenge is something that puts you to the test — like standing up for oneself.
As one looks at goals and direction for their career path, one must be disciplined in their ABC's.  We are challenged to stay focused.  Our attitude and behavior can be the thing to get us far.  While one's skills may be up to any task, but if your attitude and behavior turns customers, management or anyone that stand in the way of your mobility, it's time to adjust your ABC's.   Start with being respectful, listen to those you are in conversation with, be patient rather than being quick to take offense.  Be mindful of your tone when you communicate with others.  Always make eye contact when having a conversation or assisting others.  The challenge is to be authentic while correcting yourself to be approachable in your interaction with others.  The goal is to obtain success by using your ABC's.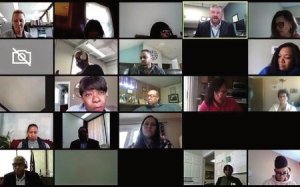 Etiquette: Zoom meetings
As we turn to video conferencing more, there are some ground rules and etiquette we should adhere to. 
Proper dress!
Dress for the job you have, not the job you want.  Do not wear your pajamas.
When you are participating on a Zoom platform, put on professional-looking attire.
Stage your video area.
Keep in mind that people do not just see you, they are also seeing whatever the camera is pointed at behind you. Maybe arrange it so that your camera is not facing towards a pile of unfolded laundry?
Lighting is important.
Video quality is dramatically improved with more lighting. And don't you want everyone to see your beautiful face, now that you have gone to all the trouble to put on actual clothes and stuff? An extra nearby lamp is usually helpful. Just make sure the light is in front of you, not behind you - being backlit makes you harder to see.
Look into the camera.
If you are presenting or speaking to a group, looking into the camera will give the appearance of eye contact with whoever you are talking to. It is also definitely better than being forced to stare at your own face and realizing how badly you need a haircut.
Use the video option when possible.
It lets people see you and confirm you are being fully involved in the Zoom. This is particularly important if you are the one hosting the meeting or a speaker.
Stay on mute if you are not talking.
Background noise can be really distracting. If you are not sharing anything at the moment, go ahead and hit mute until you do. That way, no one will have to hear barking dogs, screaming children or conversation from other family members.
Do not eat during the meeting.
It can be a little gross to watch other people eat sometimes. Or listen to them chewing, for that matter.
Do not do other private things while at a meeting.
Speaking of gross: have you heard any horror stories about people being caught picking their nose or using the bathroom while on a video conference, thinking they were muted or had their video off?
Stay focused.
Keep unnecessary conversations to a minimum. It can get extremely hard to be productive when several people are all talking at once, and even more so when overlapping audio and shuffling video screens are involved.
The host should be the last one to leave.
If the host closes the meeting, then obviously, the meeting ends. To make sure no one gets cut off or loses a last-minute point, it is a good idea to stick around until everyone else closes out of the meeting.  Adapted from Sean Adams April, 2020.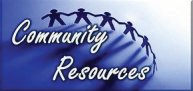 Pitt County Community Resources
Pitt County families can receive government grants, free debt help or cash aid, and other forms of support. Students can get free back to school supplies and there are gasoline vouchers, free daycare programs, and even Christmas toys for kids.
Try contacting the Salvation Army at 252-756-3388. This non-profit charity organization from time to time will have limited funding available to help people pay certain everyday expenses. They may be able to provide funds for paying rent, utility and energy bills, housing expenses, provide food, and much more. Contact them to see if they have funding. There is also free stuff, including Christmas toys, jackets, and back to school supplies.
Another option for people in need is the local community action agency. Martin County Community Action, Inc. Also covers the area of Greenville and Pitt County. The agency can be reached at (252) 792-7111. A sampling of some of the assistance programs they offer are below. Find more details on 
assistance from MCAI
.
The agency receives federal government funds as part of the Community Services Block Grant. These government funds are collected, utilized and the distributed to those in need by the Community Action agency, and the goal is to provide a wide array of resources, services, grants for paying bills and assistance.
Housing and rent assistance - Funds may be available to help those families who are facing an eviction from their home or apartment.
 
Transportation assistance - This is mainly offered to people, and senior citizens, who need to get back and forth to doctors or medical appointments.
Employment search and career development - Get help both finding a job, and increasing your skills which may lead to a higher income.
Financial literacy and budgeting - Talk to a counselor and learn how to budget better, get information on debt assistance programs, and even learn about ways to stop or prevent a home foreclosure.
 
Weatherization - The Pitt County North Carolina community action agency oversees the federal government weatherization energy conservation program. Qualified homeowners as well as renters can apply to this program, and if found      eligible can receive free energy saving improvements and upgrades to their home.
 
Low income energy assistance - This program is also funded by both the state of North Carolina as well as the federal government. Qualified applicants can receive cash grants to pay an utility or heating bill. Rent, food, energy bill and housing help 
Pitt County Department of Social Services processes and can refer families to a number of programs. Most are government funded, such as Medicaid or SNAP food stamps. Get information on low income housing, section 8, and also the Homelessness Prevention and Rapid Re-housing Program
.
The county assists those who are homeless or at risk of eviction and can help people apply for rent and utilities from LIHEAP and other sources. Grants can help keep the power or lights on, and pay both winter heating and summer cooling bills. 1717 West 5th Street, Greenville, NC 27834-1696, dial (252) 902-1110, or find more details on 
public aid in Pitt County
.
Ayden Christian Church provides medications, utility bill assistance, and rental assistance to those qualified families facing an eviction. The church is at 462 Second Street. Telephone - (252) 746-3555. Ayden, North Carolina 28513.
Advocates help the sick, elderly and disabled among others. There is information on grant programs, welfare, employment, and general self-sufficiency. They even help with apply for benefits, and find how 
disability advocate help with SSI applications
.
Hope of Glory Ministries provides material goods. This can include free food, gently used clothes, household goods, and hygiene products to individuals in need. Address is 402 West 10th Street, Greenville, NC 27834. Dial (252) 321-6857 for intake.
SSVF is for veterans and their families only. Family Endeavors, Inc., runs it for Pitt County. All housing assistance is based on need. They offer government grants to pay a mortgage or rent payment, budgeting counseling, and bus fares. SSVF also coordinates rapid rehousing, in which funds (or loans) are used to pay for moving costs, a security deposit, lease application fees or other costs. Many other costs may also be paid by SSVF, and it also gives veterans counseling. Call 910-459-4320.
Low income, section 8 subsidized apartments are always in high demand. There is often a waiting list in place, but low income families and those in poverty can learn how to apply. It is long term rent help. Read more on the 
section 8 application process
.
 Pitt County clothing banks offer free household goods and supplies to qualified low income and families facing poverty. Some of the assistance is provided by churches and some of it by other non-profits that also operate in the region. Free clothes, Christmas gifts or toys, winter coats, school uniforms or supplies and other household items may be distributed. More on 
free clothing centers and school supplies in Pitt County
.
Medical care and clinics in Pitt County
Oakmont Baptist Church Community Clinic is a sponsored health clinic/center for the Pitt County community. It is only operating one day per month. Call for hours and more information on the medical care, prescriptions needed, and more details. (252) 756-1245.
Greenville Shelter Community Clinic is a free health center operated by Brody School of Medicine at East Carolina University. Basic medical care is available to the uninsured, poor, and Pitt County residents that have no other resources available to them. It is a free walk in clinic for residents. 1600 Chestnut Street, Greenville, NC 27834. Call (252) 758-9244 for intake.
Sunday Fountain Clinic at Grimesland is a non-profit that relies on volunteers from the community. Doctors, dentists, nurses, medical students, grad students, undergrads, and others all contribute. Screenings, check ups, and referrals to specialist care are all available, as needed. Phone number is (252) 744-2938.
James D. Bernstein Community Health Center uses a sliding fee scale to provide medical services on a reduced rate, to those that qualify for assistance with their health care costs. Also, on-site pharmacy also issues prescription medicines at reduced cost to the income qualified clients. 261 Belvoir Highway, Greenville, North Carolina 27834, (252) 695-6352, or click 
prescription medication programs
.
Pitt County Public Health Department can provide government sponsored and affiliated care. Examples include Medicaid applications, AIDS/HIV Prevention Counseling, Sexually Transmitted Disease Treatment, Influenza Control, and more. Call the Greenville office at (252) 902-2305.
Free food from distribution centers
While regional food banks will do their best to not turn anyone away from receiving help, the fact is that resources in Pitt County are limited. The centers will tend to focus on children from low income families and senior citizens. Some of the main locations are as follows.
Jarvis Memorial United Methodist Church is located in Greenville. The phone number is (252) 752-3101. Meals, canned goods, and maybe items like a blanket or clothing may be offered.
First Born Community Development Center mostly focuses on children, single parents, and newborns. The main number is (252) 758-6147.
Social Media:  Friend or Foe?
I decided to search my name on the web and I was surprise about the information that was out there.  It is giving me an opportunity to assess what I should keep in the public domain or reserve some information for private/personal friends to see.  Technology has created a means for people to sit at home and be connected to millions of people with the click and send bottom.  We can now share our feelings and frustrations about family, friends, co-workers, relationships, and a night out with the girls or guys, your imagination is the limit. As we sit typing and clicking, sometimes we might even dramatize an event or a mood.  For example, "I need a drink after dealing with my boss today."  "I am going to kill myself if I get another call from my Ex." Or "I have been up all night doing my thing; I do not know how I am going to get through the day."  So the question is would you want potential employers to get to know you through social media? Would you want to lose a potential roommate because they or their parents have searched the web and found questionable information about you?  Think about ways you can build an online profile that will help you obtain a job, advance your goals in other areas of your life, rather than causing a door to be slam!
What can be done to clean up potential problems on social media sites?
1.      Check out what's on your site.  Is it painting a true and responsible picture of you?
2.      Material you just want your friends to see should be set up with privacy settings.
3.      If you have pictures of a "wild night" of partying, beers drinking, etc., remove them from the public domain.
4.      Remove posts of a "personal nature" from the public domain.
5.      Be careful of who you "friend", especially clients, students, or business customers.
6.      Remember, we are linked-in to the world through our friends! Do we want others to know we have friends with a questionable past?
Therefore, using a search engine such as Yahoo, Google, Bing yourself, assess your information, is it the find of profile you want potential business associates, employers, and people you have intimate relationship to make of you.
Coping with unemployment and the stress of it all

The unemployment rate is hanging around nine and a half percent.  This figure is even higher in minority communities. It's normal to feel scared, lost, depressed and anger after losing a job.The stress of job loss and unemployment can take a toll on your health. It is important to take care of yourself. It means looking after your physical and emotional needs and managing your stress level.  Helpguide.org listed several tips to managing a healthy lifestyle while looking for another job: 
Tips for managing unemployment stress:
Maintain balance in your life. Don't let your job search consume you. Make time for fun, rest, and relaxation—whatever revitalizes you. Your job search will be more effective if you are mentally, emotionally, and physically at your best.
Make time for regular exercise. Exercise can be a great outlet for stress and worry while you're unemployed and looking for work. It is also a powerful mood and energy booster. Aim for at least 30 minutes of exercise on most days of the week.
Get plenty of sleep. Sleep has a huge influence on your mood and productivity. Make sure you're getting between 7 to 8 hours of sleep every night. It will help you keep your stress levels under control and maintain your focus throughout your job search..
Practice relaxation techniques. Relaxation techniques such as deep breathing, meditation, and yoga are a powerful antidote to stress. They also boost your feelings of serenity and joy and teach you how to stay calm and collected in challenging situations—including job loss and unemployment.
Remember you can get through this tough time by taking care of yourself, reaching out to family, friends, co-workers, social media and focusing on your goals. Losing your job can also be an opportunity to reexamine your life, rethink your career goals, and rediscover what truly makes you happy.  So relax, release, rejoice in brighter days ahead!
You have served your time, learned from your mistake and now you are trying to find a job.  Yet, ever where you go you cannot find a job.  At this point you are at a folk in the road.  You have options, although you are not feeling it right now.  You can turn to the right and keeping looking for a job, or you can turn to the left and make some quick money that possibly might land you back in jail.  Your decision is a measure of your character.  How you handle life challenges is a measure of how successful you will be.  A prescription for success is perseverance, hard work, faith in yourself and in a higher power, dealing honestly with people, and producing quality work.
Finding a Job:
Goodwill:  Many people don't realize that the Goodwill has a large job-posting community, with many jobs for ex-cons. Visit them online, or go into any Goodwill center.
Department of Justice:  Look at the Department of Justice re-entry pages for prisoners. This resource lists agencies that can help you find a job, state by state. They also explain how your employer can get a tax break for hiring you.
National Hire Network: This website lists a number of employers that specifically look to hire people who are just out of prison. They also have a specific page with links that you can show your employer, detailing how to get a tax refund for hiring ex-cons and answering questions they may have.
Prison Talk: This forum allows you to talk to other formerly incarcerated people. You can network with them to find job opportunities.
Completing the Application and then Interview Process:
Know your rights. Be a knowledgeable applicant. Visit your State Department web site and review what an employer can check.
Read the job application. Read the application carefully, so you are informed as to what will be checked.
Disclose only what is asked. Only disclose the information you need to, based on the employment application.
Be honest. If you're asked about credit or your criminal record and have issues, explain the circumstances. The employer will value an explanation upfront, rather than discovering that there is a problem when they get your report.
No one said it will be easy.  You will have many setbacks, but if you stick to your job search, you will eventually land a job.  Then work diligently and continue to strive for advancements.  Following these steps, you will be off and running!
/